13 April 2017
IBC Legal Services Partner Mykhailo Kocherov was acknowledged as the best writer of the «Yuryst&Zakon» edition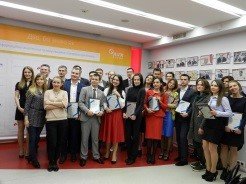 IBC Legal Services heartily congratulates the partner of the company, Candidate of Legal Sciences and lawyer Mykhailo Kocherov, who was acknowledged as one of the best authors of the "Yuryst&Zakon" edition of the "Liha" group of companies. The winners were determined by the results of their work in 2016.
At a solemn ceremony at the headquarters of the "Liha" Companies, Mykhailo thanked the partners for such a high level of work and promised to continue to please publishers and readers with professional and accurate legal recommendations.
IBC Legal Services has been cooperating with the "Yuryst&Zakon" edition for a long time and the award has become a proof to the high effectiveness of such cooperation.